Show Posts
This section allows you to view all posts made by this member. Note that you can only see posts made in areas you currently have access to.
Messages - tacosanche
Pages: [1]
1
« on: July 05, 2012, 11:57:41 PM »
2
« on: April 19, 2012, 05:47:25 PM »
Hey guys, as of late, I've been seeing more and more real steel pistols with integrated red dot sights, i.e mounted into a crevice in the slide. This works by machining away part of the top of the slide and making a pocket for the micro red dot sight to sit in. I was wondering if any of you have tried this in airsoft, or thought about it, or know any ways this could be done. I'm thinking of trying to do it on my WE Glock, but am having a hard time deciding if the gerth of the slide will be enough for tapping holes and such. Give me your feedback!
3
« on: January 02, 2012, 12:33:34 AM »
Hey guys, I just recently acquired a kjw m700 in a tanaka m40a1 stock and I thought it would be really cool to replicate an mst-100 scope. I saw a couple guys on this forum and other forums who made their own mst-100's. A couple of questions I have are what scope did they use as a base, and some tips or methods on how to get the right look.
Also: I noticed the ring spacing was one of the main problems with their replicas. If a proper base scope is chosen for the project, then the ring spacing problem could be resolved.
Anyways, suggestions and help would be appreciated.
4
« on: December 30, 2011, 01:20:42 AM »
You need a sunshade and some butler creek scope covers!
5
« on: December 15, 2011, 05:51:29 PM »
If any of you guys can find me a kjw for 50-70 I would very much appreciate it
6
« on: December 14, 2011, 05:41:26 PM »
Nah, I don't want to spend the extra money, its not worth it to me. Maybe sometime in the future.
7
« on: December 13, 2011, 10:36:26 PM »
Thanks I'm glad you like it, it took a little while to build.
8
« on: December 13, 2011, 09:50:23 PM »
Hey Guys, I crafted a McMillan A5 Stock out of wood for my G&G G96. Here is a video compilation of pictures and video segments and a voice over tutorial.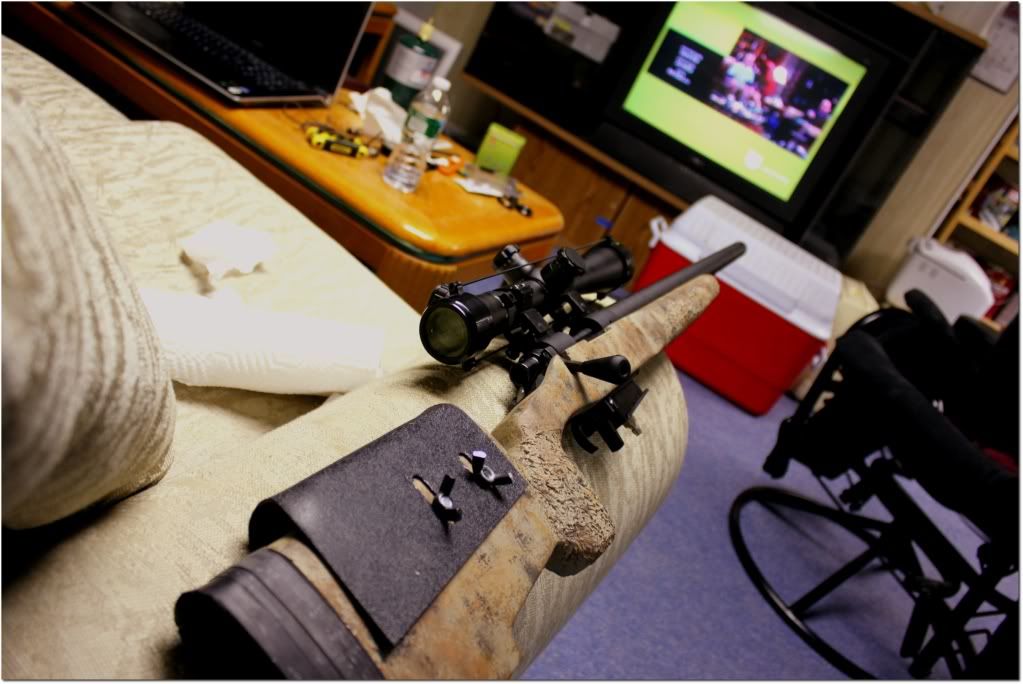 9
« on: August 11, 2010, 12:06:07 PM »
G&G is a great brand. They offer a wide variety of guns, all of which have decent to good internals and very nice externals. G&G's use of magnesium gives the gun a light weight, durable body with a very nice rough but at the same time smooth texture. They have the only high quality UMP and F2000. Their hop up buckings are suited for even the cold of winters. The build design of their guns are smart and have Velocities to match their use such as lower velocity for cqb or mid range velocity for woodland. G&G's sportline guns use a nylon fiber weaved plastic that gives them great durability while having decent internals to last. G&G overall has a good reputation and is a popular choice for the average "airsofter."

Madbull is a great brand. Though they may not make entire guns, they have licenses for many real gun companies to make replica airsoft parts with their names. When it comes to Madbull, parts they make, especially external parts are limitless. They have metal bodies, Noveske, stag arms, and many other branded bodies, they have outer barrels , they make Rail systems such as the Daniel Defense rail systems or the Noveske free float rail systems, almost all rail systems with a name of a real brand company are Madbull produced. Madbull make barrel extensions, and even high quality, low price inner barrels ranging from 6.03 and 6.01 in inner diameter length. They created the most innovative one-piece m4 hop up unit, their ultimate hop up unit. What makes this unit innovative is its use of the drum style wheel instead of the traditional wheel which utalizes more moving parts. The drum style wheel is much more solid and secure. The hop up unit also has a cut out which is meant to fit Madbull's very own tracer unit that is stationary in the hop up unit. This eliminates the need for an external tracer unit. As you can tell, Madbull is a very big part of airsoft. As Tim would say, Madbull is to airsoft as Magpul is to Real steel.

Tokoy Marui is a great brand. They were the creators of the first AEG's. This eliminated the practical usage of the Classic gas guns which used external air sources. The invention of the AEG was a big event in the airsoft world. It made airsoft more playable even for the average kid. Tokyo Marui's AEG's are known for durability and their Hop up. Tokyo Marui, dare-say has the best stock hop up unit of any gun on the market. Their guns are mostly made of plastic, but good plastic at that. They have the only Psg-1 on the market which is a very rare find nower days. They also released their Sopmod M4 which is full metal and has a blowback with "recoil." They also released their G36k which also has a blowback and recoil system. Tokyo Marui has some of the best pistols on the market as well. Their High capa 5.1 is the most versatile pistol. Ipsc shooters almost always use a Tm hi capa 5.1 as the base gun to custom build it to their needs. Tokyo Marui's Mk23 is the most accurate stock pistol to acquire. I personally own one. They made this with a working sound mock mock suppressor and a replica toyish Lam unit that gives it an authentic look. Tokyo Marui is one of my favorite brands for these reasons and because possibly if they never created the first AEG, airsoft would have never spread wide and become popular. Thanks TM!
Pages: [1]